Balancing Rhythms of Rest and Work (Overview)
Article / Produced by TOW Project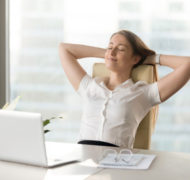 Making Time Off Predictable and Required
Read more here about a study regarding rhythms of rest and work done at the Boston Consulting Group by two professors from Harvard Business School. It showed that when the assumption that everyone needs to be always available was collectively challenged, not only could individuals take time off, but their work actually benefited. (Harvard Business Review may show an ad and require registration in order to view the article.) Mark Roberts also discusses this topic in his Life for Leaders devotional "Won't Keeping the Sabbath Make Me Less Productive?"
Introduction – Rest and Work
Human beings need a rhythm of work and rest in order to live up to their God-given potential. Just as God gives people important work to do, God also asks people to rest periodically from their labor. Work gives each individual the opportunity to partner with God in his goals for creation, while rest lets that person enter into communion with God in enjoyment of creation. Ideally, all people would work and rest in comfortable alternation, leaving humanity physically healthy, mentally stimulated, and spiritually fulfilled.
Alas, for many people this happens rarely. Many neglect to rest or do not have the opportunity to rest, given the patterns of their lives. With the dizzying advance of technology, people can work anywhere and anytime. In 2014 The Economist reported that 60% of people who use smartphones are connected to their offices for 13.5 or more hours a day.[1] Many people have ceased to attempt to balance work with rest.[2] Others find all their time consumed by the need to earn a paycheck, care for children or aging parents (or both), and fulfill others' needs and expectations of them. Over-worked, they find it increasingly difficult to experience the kind of life-restoring, humanizing rest that they need.
Conversely, some people are under-worked, either for lack of full-time employment or from feeling disengaged from their jobs. Some lack the motivation to work or have not developed habits needed for work. Structural changes in the labor market over the past half-century have decreased work opportunities for those without access to higher education.[3] And even those who work full time may suffer from a lack of productive engagement. If a worker feels that his or her work isn't valued, measured, or appreciated, that worker will struggle to exhibit ownership over the task at hand.[4] If he or she is not prepared to work productively, successful results are unlikely. The outcome will be a life-depleting lack of motivation.[5]
When people lack rest they suffer physically, mentally, emotionally, and spiritually. Physical and mental exhaustion can often lead to emotional volatility, as a poorly rested individual become easily irritated and/or anxious. This lack of rest can escalate into larger issues. Relationships become strained. Over time a person's spiritual life—a connection to God and the deepest meaning and joy in life—becomes diminished too.
Research bears out the cascading consequences of a rest deficiency. First, lack of rest can compromise health and the quality of work. Heavy workloads and long hours are a significant source of stress in the work place. According to an American Psychological Association survey, more than a third (36%) of workers experience chronic work stress, which can lead to anxiety, insomnia, muscle pain, increased blood pressure, as well as a weakened immune system. This kind of stress can also increase chances of heart disease, diabetes, and depression.[6] Furthermore, exhaustion depletes a person's skill at managing interpersonal relationships. Studies show that when someone is tired he or she misreads other people's social signals. A tired person will project negative motives onto other people, and find it hard to resist lashing out in response.[7] Finally, there are spiritual implications to lack of rest. God created both work and rest, and carelessness in these areas can estrange people from him.
Howard E. Butt, Jr., on Rest
Both those who are over-worked and those who are under-worked may find it hard to connect with God in a rhythm of work and rest.
Yet by God's grace it is still possible to integrate rest and work into the pattern of life that God intends. This study will explore the reasons why and how to do so.
From the opening pages of the Bible, both work and rest are surprisingly significant topics. In the first chapter of Genesis God creates everything, yet despite his infinite power and perfection God takes time to rest. This topical study will trace the theme of rest in scripture through four main topics: 1) why people need to rest, 2) why people can't rest, 3) how rest is restored, and 4) and how people can rest in faith.