What Does the Bible Say About Wealth and Provision? (Overview)
Article / Produced by TOW Project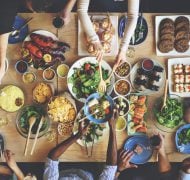 Introduction
God intends for everyone to thrive economically. He wants us to find provision (basic needs) for our daily life. He also desires for us to enjoy the wealth (abundance) of his generosity. Furthermore, God's world has ample resources to provide all we need. However, in the fallen world we inhabit, many people do not experience God's abundant provision. Others find their needs are met, but only at great cost (emotional, physical, relational, environmental, moral or spiritual) to themselves and those around them. Then there are still other people who attain significant economic wealth, but this is gained through harming others or themselves. Whatever situation we find ourselves in economically, questions and concerns about God's intent and role in provision and wealth weigh heavily on almost every Christian's mind. Such matters are to the fore in the lives of rich and poor; employer, employee and job seeker; student, parent and retiree; homeowner, tenant and homeless person.
Fortunately, this concern for the economic is matched by the priority it is given in Scripture. Indeed, provision and wealth are far from peripheral issues in the Bible. They occupy a large share of both the Old and New Testaments, and are prominent in the Gospels.
So what does God's word have to say to us? In this article we will explore:
God's original intentions for us regarding provision and wealth
The impact living in a fallen world has had on our capacity to experience provision and wealth
God's response in redeeming the economic sphere, and our role in this
What we can reasonably expect from God in regard to our provision
How we should treat any wealth we possess
Overall, our emphasis is more on God's intent for how we handle wealth, and less on what it means to depend on God for basic provision. Many who read this article may feel anxious about whether God will provide for their needs, but we guess that for the majority of readers, much of the anxiety is really about whether they will continue to enjoy a high level of wealth—by world standards—rather than basic provision. Basic provision is nonetheless an essential part of the discussion, of course, and we welcome further insight in this area, especially from those whose experience in living with poverty and anxiety about basic provision is greater than ours.