Ethics at Work (Overview)
Article / Produced by TOW Project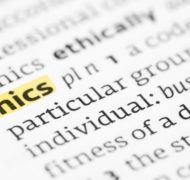 Note: "Overview" articles are full-length explorations of major topics in the theology of work. If you're interested in a specific aspect of the topic, the table of contents can help you jump there quickly.
INTRODUCTION
Ethics is about knowing and doing what is good or right, and workplace ethics is about knowing and doing what is good or right at work. For the Christian, this means applying the Bible and other resources of the Christian faith to help decide and do what is ethical or moral at work. (In this article, "ethics" and "morality" are used interchangeably.)
Three general approaches to ethics have achieved widespread use both in Christian moral thinking and in the world at large. The approaches are:
Command — What do the rules say is the right way to act?
Consequences — What actions are most likely to bring about the best outcome?
Character — What kind of moral person do I want to be or become?"

[1]
What distinguishes Christian ethics is not that it uses different approaches, but that it brings biblical values into each of these approaches. There are biblical commands (also called principles), biblically desired outcomes and biblical character traits (also called virtues) that Christians need to bring into their moral decisions, actions and development.
In developing a Christian ethic, we will consider what help the Bible provides for each of these approaches. Then we'll explore whether we might need to combine these three in some way to give us a more balanced and integrated approach. Finally, we'll consider how to live with the reality that our world is fallen, or imperfect, and that there is almost never a perfect solution.
We will be developing a Christian approach to ethics as applied to work, but we will not attempt to give answers to major issues in workplace ethics. Instead, we will develop Christian ethical principles and methods that readers can use to apply the principles to issues and cases.
At this point, we offer you the choice between two different presentations of these approaches. Choose to read either a narrative involving a real-life case study or a more systematic presentation of the different approaches. The systematic approach is briefer and more abstract. The narrative approach is longer and applies the approaches to a real-life situation faced by used car dealer Wayne Kirkland.
| | |
| --- | --- |
| Click to continue with a | Click to continue with a |