If I'm Suffering, is God Punishing Me? (Devotional)
Devotional / Produced by TOW Project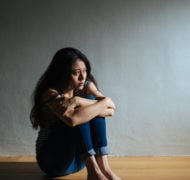 Does suffering ever cause you to wonder if God is punishing you? Through study of God's word, reflection and prayer, let this 4-day plan help you draw closer to God in difficult times.
You can find this devotional on the YouVersion Bible App (download the app here), or read the devotional If I'm Suffering, Is God Punishing Me? on Bible.com
Excerpt:
There are times when God does cause his people grief because of their wrong acts. As Hebrews also affirms, God disciplines us so we can become more like him (Heb. 12:7-11). So, it's possible that our suffering is the Lord's way of helping us to grow in holiness...
But the Bible cites many other causes for suffering. Don't automatically assume that God is punishing you. For the next three days, we'll explore some reasons that God allows suffering. We pray that this plan will help you walk by faith in the living God, whose faithfulness will not fail.
Read If I'm Suffering, Is God Punishing Me? on Bible.com
---
---